These tools are now available for these 3ds max versions, several things have been fixed and improved, specially an issue working with both tools in the same rig, now they work seamlessly.
You can download them here:
IKFK Solver
Animatable Pivot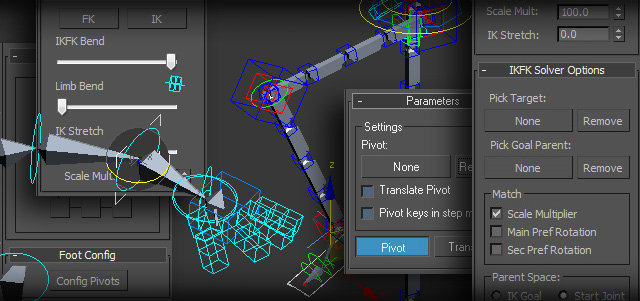 Improved (IKFK Solver):


- When "Show all Nodes Keys" option is on shared keys are shown in black, the list of all controllers are not shown anymore in the track view.

- Colors of display lines are red in fk or blue in ik.

- Always display Lines option was added.

-Match switch options for fk/ik, target/swivel were added.


Fixes (IKFK Solver):


- Solver doesn't break anymore with negative or odd position and scale values in the FK Nodes.

- Issues don't happen anymore with a rig that uses ikfk solver in conjunction with animatable pivot.

- Cloning nodes now works properly.

- Double transformation don't happen anymore when ik and fk are selected and moved at the same time.

- Match now works well when IKFKBlend is between 0 and 100.

- IK goal now have proper naming when the solver is created.

- fk to ik match when target moves and the ik is offset now works properly.